An exhibition or two
English version | read in French »
---
The family of the late Françoise Taylor are preparing her work to be exhibited.
These would not be her first exhibitions. From the early 1950s after Françoise had moved from Belgium to industrial Bolton in North West England she found time to wander the streets and produce hundreds of paintings of what she saw: textile mills, gas works, cobbled back streets and as always, the people who were there.
Encouraged by her husband they were exhibited in various galleries in the region (and sold in large numbers). There are also examples in the permanent collections of Manchester Art Gallery, Bolton Art Gallery and The Whitworth in Manchester.
Her earlier work, from around 1944 to 1952, consisted mainly of engravings and pen drawings with occasional lithographs and monoprints. They have never been shown to the public, although some exist in the Royal Library of Belgium, the National Library of France and in the hands of private collectors. More recently, in 2013, a number of these works were taken into The Whitworth's permanent collection.
It is mainly her earlier pictures we want to show now.
Françoise Wauters, as she was until she married, was a prodigiously gifted artist, at drawing in particular (left-handed but wrote right-handed). At the Académie Royale des Beaux-Arts in Brussels she won First Prize for drawing three years in succession. At the Ecole Nationale Supérieure d'Architecture et d'Arts Decoratifs (La Cambre) she was awarded a Diploma with the Highest Distinction and a Mastery "avec la plus grande distinction et les félicitations" by a jury of seven leading art critics in Belgium.
Throughout her life however, Françoise made no attempt to promote her work, either in Brussels or England. The exhibitions she held during the 50s, 60s and early 70s were encouraged by her husband, not her own ambition. She had no contact with other artists nor took part in the activities of the art establishment, locally or anywhere else. She was driven not by the prospect of fame and fortune but by the creative act, pure and simple.
Her family wants to respect this. We would like these exhibitions – if they are held – simply to show, in the best way possible, what a young Belgian woman who became English was able to create with her gift for expression and her incredible imagination.
We consider many of Françoise's engravings and drawings from the mid-1940s up to the early 1950s to be outstandingly beautiful and intensely moving – and on a level with the very best in Western European art. Their exact subject matter may not seem so relevant to the modern age but the themes are timeless: the feelings we have for each other, the spirituality of belief, the hardships endured by much of mankind, the misery of human conflict, the natural beauty to be found in the animal kingdom – these are all there in abundance. These pictures must surely be brought out before they are forgotten.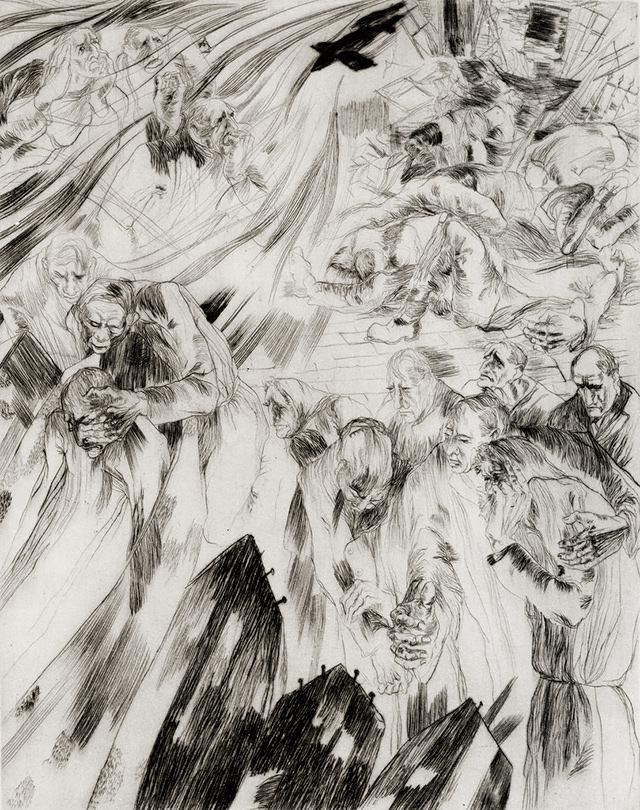 Pointes Seches sur la Guerre is a series of thirteen drypoint engravings depicting the deprivations suffered by many Belgians during the German occupation in World War II (V1 flying bombs were launched on Belgium as well as on Britain).
---
Her art was invariably figurative – Françoise was not interested in abstraction. She used representational form to express the themes she found in all kinds of European literature: Lewis Carroll, Sir Thomas Malory, Samuel Taylor Coleridge, Hans Christian Andersen, Kafka, Dostoievski, Conrad, Alain-Fournier, Emily Brontë and many others – even William Shakespeare. Her studies in book illustration in the 1940s were simply a pretext. Her pictures were not intended for books but as images in their own right.
The engravings – etchings, burins and drypoints – are often small, sometimes only a few inches, but they are filled with fine detail – miniscule lines and hatchings with varying tones of grey to make up the composition. It means they are not always easy to appreciate from several feet away on a gallery wall. Some are, others less so. To bring them out properly they will be suitably framed for exhibition but they might usefully be accompanied by enlarged prints alongside, with storyboards to explain their literary contexts. Those prints would be archival quality and could be offered for sale.
We have identified a number of topics as a way to group selected pictures for exhibition. They include:
Alice in Wonderland (Lewis Carroll)
The legend of King Arthur (Sir Thomas Malory's Le Morte d'Arthur)
The Rime of the Ancient Mariner (Samuel Taylor Coleridge)
Twenty Belgians (characters from the history of Belgium)
Stations of the cross (from biblical accounts)
Industrial Bolton in the 1950s (from observation)
Pointes Seches sur la Guerre (deprivations of war in 1940s Belgium)
Animals from the natural world and in captivity (from observation)
Other selected pictures of particular note
A possible overall theme:
Pictures from Wonderlands
In a handful of years in the middle of the 20th century a prodigiously gifted young woman created a remarkable body of art which has never been shown until now.
From wartime Belgium in 1943 to early 1950s England the Belgian-British artist Françoise Taylor produced hundreds of highly individual drawings and engravings at last discovered at her home when she died in 2007. This exhibition is a selection from some of the themes, both from reality and literature, that inspired much of her work. The timeline begins with her first engraving in 1943 up to some of the north of England scenes she produced a few years later.
Françoise Wauters, later Françoise Taylor when she moved to England, possessed a powerful imagination and a deep fascination with both the human spirit and the natural world. Together with her gift for drawing it is these that she brought to her 'wonderlands' of European literature, wartime Belgium and the hardships of the post-war period. So these were not always wonderlands of the Alice variety. Her drawings bring out not only the beauty of life but its sorrows, its deprivations and sometimes the horrors – the beauty to be found in the animal kingdom through to the horrors of human conflict.
Whichever wonderland it was, Françoise applied the art of drawing and quality of line in her own highly distinctive style, instantly recognisable, often distorted but always to a purpose – and always brimming with an intense beauty so uniquely hers.
There are other potential themes. Françoise was a female artist working in what was effectively a war zone (wartime Brussels). Many Belgians had left the city but she and her family chose to remain there throughout. Her art of the time was therefore an unusual perspective on one of the most significant events of the 20th century – and by a woman. Then when she moved to Britain shortly after the war she witnessed its aftermath from a new perspective: that of an industrial town in North West England.
So we are thinking of one exhibition perhaps somewhere in the north of England (or London) and one in Brussels.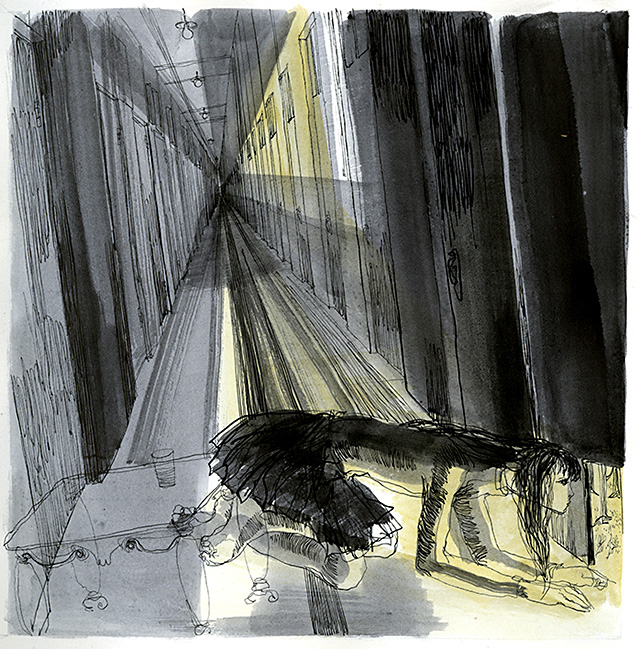 ---
The Estate of Françoise Taylor (1920–2007)
---